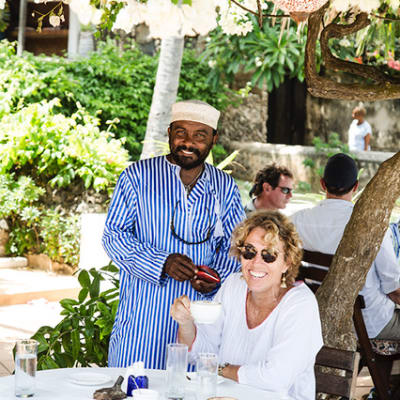 Welcome to Banana House
Banana House is a boutique hotel in Shela, Lamu Island. It has all the charms of a quietly elegant private home with 16 rooms spread over three houses situated in a magnificent tropical garden with swimming pool. True Wellbeing is experienced the minute you step through the door. Peaceful, warm welcome, organic food, fresh air, you immediately relax. Our social responsability, yoga, massage and the love that Monika and Banana have put into the House to give it a warm and homely atmosphere makes Banana House unique. So…welcome to Banana House. Welcome home!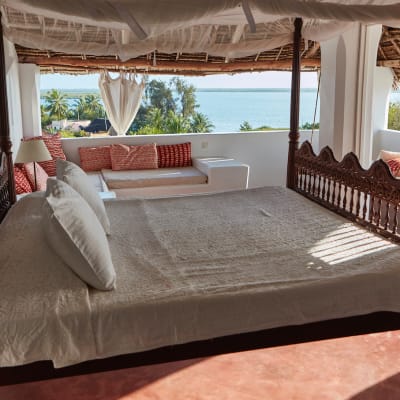 Rooms
We offer lovely rooms for one, two or tree people, spacious family suites and huge superior-class penthouses. You can rent a floor, a whole house, or entire Banana House, with our experienced staff catering to all your needs. With its remarkable views of the sea and our beautifully gardens, Banana House is simply and tastefully furnished in traditional Swahili style. Sitting areas, day beds and hammocks are located throughout. A swimming pool is situated in an area of the garden abundant with exotic bird life.
Monika, with her background in fashion, has styled the house with her personal touches. Lots of characteristics are to be found from the Klm-Dutch houses at the Swahili Vidaka towards the shells in the bathrooms and the recycled fishes in the rooms. At Banana House we take great care of giving the guests a homely feeling. We are happy to assist which room suits you best. All our rooms are unique. Please contact us to explain the dynamic of your group and we will assist you in booking the best room for you.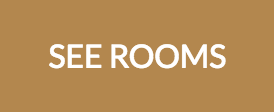 It is also possible to book Banana House for weddings, birthday celebrations or other private functions in its entirety with our experienced staff catering to all your needs. Just contact us!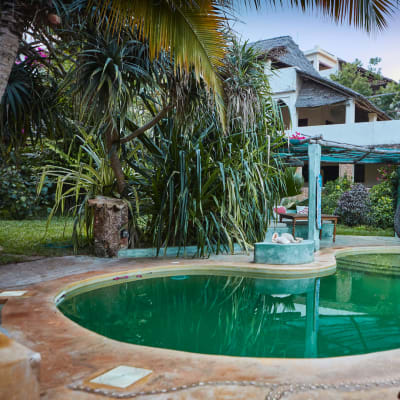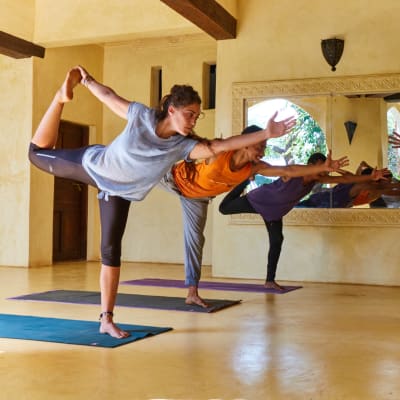 Yoga & Wellness
Wellness starts the moment you step into the world of Banana House. The atmosphere, the welcoming, the spacious environment, the friendly staff, the food, the attention, the yoga and wellness treatments. Find out more about the yoga and wellness programs we offer by clicking the button below!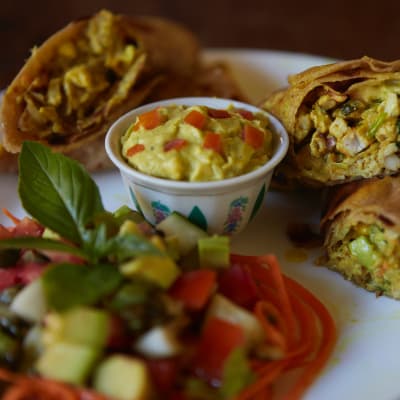 Food
Banana House kitchen is well known! We serve excellent daily fresh seafood like ginger crab, barbecued snapper, tuna carpaccio or yummy prawns curries as to mention a few. We use only organic, daily fresh ingredients from the local farmers or fishermen. We have our own organic farm as well. Food is prepared with a lot of love and care.
Our cooks have done ayurvedic cooking course and prepare delicious vegetarian food as well!
We encourage our guests to cook with us and expand our cooking knowledge. Banana's passion is cooking and he might cook for you a delicious fish curry or tuna ceviche...